Let's be honest: Most of us probably send text messages we want to remain private. Even though the majority of hackers don't target average citizens, in this day and age of constant security breaches, it's a good idea to use an encrypted messaging app on your smartphone.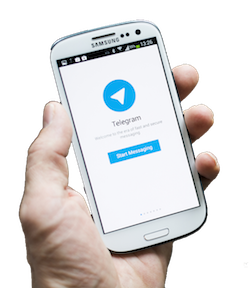 There are several programs that fit the bill — WhatsApp and Wickr are two I've mentioned before. Another one of the more popular encrypted messaging apps is Telegram.
The app is designed with end-to-end encryption, which means only the people sending and receiving messages can read them. In fact, no data (including media and files) that you send and receive via Telegram can be deciphered if intercepted.
The app also allows you to choose if you want the messages to self-destruct after a certain time period. And you can use an image encryption key that you compare with the other user to make sure the conversation is secure.
A ton of people use this app. In fact, Telegram recently passed the 200 million monthly user mark. While I have no doubt you would never use an encrypted messaging app for criminal purposes, that's not true of others…
An App for All
On Nov. 13, 2015, terrorists armed with assault rifles attacked six different locations around Paris, killing 130 people and wounding hundreds more. About a month after the tragedy, French investigators revealed that the terrorists were using encrypted messaging apps to hide their conversations — specifically Telegram.
In February of this year, Apple temporarily removed Telegram from its app store after both companies discovered the app was being used to disseminate inappropriate content. The app was restored after Telegram removed the content, banned the offending users and instated stronger security measures to prevent similar issues in the future.
Criminals aren't the only ones who use these encryption apps. Many lawmakers use similar apps when conducting personal business. Former Kansas congressman and current CIA director Mike Pompeo said he uses apps like Telegram because he wants to do everything in his power to protect his personal information.
Of course, cybercriminals are constantly looking for ways to crack the security measures these programs offer. But unless you're a celebrity or government official, these apps should provide an adequate level of privacy to protect your personal communications.
Start Sending
You can download Telegram from your smartphone's app store. To install and use the app, follow these steps:
Download the app. Once you download the app, open it and tap "start messaging."
Enter your phone number. When you enter your number, you'll receive a text message with a verification code. Enter this code to move on to the next step, which is typing your name and choosing a profile picture (optional).
Allow access to contacts. The app will request permission to access your contacts — which is mandatory. Select "OK." This will enable you to select contacts in your phone and invite them to use the app.
Invite friends. Tap "invite friends." Scroll through your contacts list and choose people to invite. Click on the name and on the next screen select "invite to Telegram."
Start chatting. Once your friends are signed up, you can begin chatting. To start an encrypted conversation, select "new secret chat" and choose which person to add to the chat from your contacts.
Once you're all set up, chatting with your friends is as simple as typing messages to each other just like a normal text message program — Telegram does the rest.
Remember, you can send images and other media through the app, call your contact or set a self-destruct timer on messages to erase them from your phone after a certain time period has elapsed. Just tap the drop-down menu at the top of the screen and then tap "info" and select the time frame. (Only messages sent after you set the timer will be affected.)
If you're looking for a way to keep your private communications private, downloading an encrypted messaging app for your smartphone is a no-brainer. Even if you're not worried about someone intercepting your messages, it couldn't hurt.
Stay safe,
Jason Hanson