Dear Black Bag Confidential Reader,
The hacks just keep coming… And this latest security flaw puts every single wireless device in your home in jeopardy.
Take a look at the first of this week's must-read articles for the full scoop on KRACK — and what you can do to fortify your cyberdefenses.
Let's get started.
1. Security Researchers Uncover KRACK: A Major Wi-Fi Security Flaw
News of a new hack affecting Wi-Fi-enabled devices broke yesterday morning and software developers are scrambling to develop patches to correct the vulnerability.
Security researcher Mathy Vanhoef doesn't mince words when explaining how serious this threat is: "The weaknesses are in the Wi-Fi standard itself and not in individual products or implementations. Note that if your device supports Wi-Fi, it is most likely affected."
It gets worse.
According to Vanhoef, "This can be abused to steal sensitive information such as credit card numbers, passwords, chat messages, emails, photos and so on… Depending on the network configuration, it is also possible to inject and manipulate data. For example, an attacker might be able to inject ransomware or other malware into websites."
To find out what you can do to protect your devices, check out the article above.
2. This Limited-Edition Gadget Could Be Your Greatest Ally in an Emergency
Flashlights are an essential survival tool — I recommend having at least one on every level of your home (along with extra batteries). That being said, the one downside to even the most quality survival flashlight is that it automatically ties up one of your hands.
Unless you have a survival light headlamp like the SL5K.
This lightweight, comfortable headlamp has four modes — the strongest of which boasts a whopping 5,000 lumens of incandescent power. Plus, it frees up both of your hands to handle any emergency with ease.
Not only is this versatile light source perfect for emergency situations, but you can also use it for self-defense, repairs, camping, hunting, hiking — and more. Similar headlamps sell for as much as $89.99, but through the link above, you can get one of these amazing devices for yourself for less than half that cost.
Why wait?
3. Survival Gear I Didn't Need and Shouldn't Have Bought
I like this piece from Next Step Survival because what author Brian Hawkins does here is something I try to do also. Namely, sharing my survival and preparedness mistakes so you won't make the same ones.
This post runs down several examples of survival items Hawkins shelled out for unnecessarily. In his words, "I should have made a plan, a budget and stayed on target."
To err is human, but as long as you learn something from your missteps, it's not a complete waste. Or you can read the article above and learn from Brian's. It's your choice.
4. The Female Code-Breakers Who Were Left out of History Books
Do you know this woman? You should.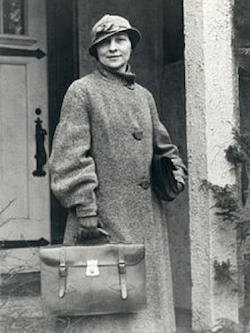 Elizebeth Smith Friedman was an expert cryptanalyst and a groundbreaking pioneer in U.S. cryptography. Her work led to the arrest of criminals at home and abroad — from members of Al Capone's gang to a network of Nazi spies — but until recently, no one knew about her incredible achievements.
Now, thanks to recently declassified documents, Elizebeth's story — along with those of several other accomplished women code-breakers — is getting the recognition it deserves. Take a look.
5. Puerto Rico: A Real-Life Case Study in Surviving the Worst
The situation in Puerto Rico is dire. Long lines and a lack of aid means it's slow going for people just to get back on their feet. Rebuilding is going to take years or (more likely) decades because the most serious damage wrought by Hurricane Maria was to the island's power grid.
This is a huge problem because, "Without electricity, much of what people depend on to survive is eliminated. There is no running water, no communications and most stores are unable to operate." And there's more…
But rather than dwell on the state of things, let's focus on the lessons we can learn from this disaster. This piece from the folks over at Survivopedia covers a lot of ground, but it is well worth the read. Check it out.
Stay safe,
Jason Hanson