Jason] On June 1, a Memphis, Tennessee, homeowner returned to his house around 7:00 p.m. to discover his front door had been pried open. The homeowner (who has not been identified to protect his safety) opened his front door and found two men inside his home.
Both intruders were armed. One of them fired shots at the homeowner. The other attempted to use his weapon as well, but the gun jammed. The two criminals then ran through the kitchen and out onto the back patio.
The homeowner grabbed his AK-47 from a closet and made his way through his home until he found the two criminals out back. The homeowner immediately fired on the two men.
They were dead by the time police arrived. Authorities identified the deceased as 28-year-old Azell Witherspoon and 17-year-old Demond Robinson.
The Best Defense Is a Good Offense
The homeowner was taken to the police department for questioning. He was released after he provided authorities with video footage from his home surveillance system showing he acted in self-defense.
The district attorney determined that no charges would be filed against the homeowner. According to reports, the homeowner said he regretted the loss of life, but he felt that it was either him or them. He also said, "I don't know what's going on but I know I'm going to defend my life to the best of my ability."
The fact is the homeowner was right when he said it was either him or them — and he did a good job of protecting himself by grabbing his AK-47. As an owner of AKs myself, I think they're great guns. They're easy to use, you hardly ever have to clean them and they're nearly idiot-proof.
If you don't own an AK yet — and want a fun gun to add to your arsenal — here are a few to consider…
Century Arms RAS47
Century Arms sells an American-made AK-47 styled after the Cold War-era Soviet AKs. The RAS47 is modeled after the original Kalashnikov design and provides reliability at a reasonable price. The stock is made from maple wood, while the grip is made of black polymer.

RAS47
Century Arms has long made reliable AK-47s overseas. However, it is illegal to import AK-47s from certain countries, such as Russia. In response, Century Arms brought production of some of their AK-47s to the U.S.
This means that there are an enormous amount of aftermarket parts available. So you can legally buy an AK in the U.S. and add aftermarket parts to make it more like the Soviet-era rifle.
Basically, if you are looking for an AK-47 you can modify, this is the best option. The RAS47 currently sells for around $750.
Arsenal Sam7
Arsenal is a major importer of AK-47s and similar rifles from Bulgaria. The Sam7 uses a special milled receiver, which is typically more accurate than a stamped receiver because it is heavier and more durable.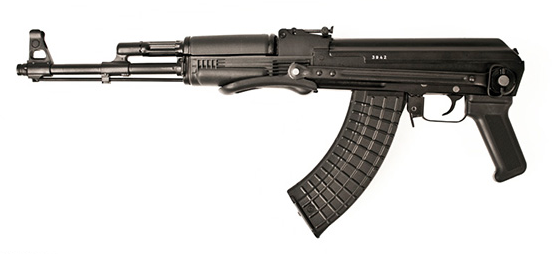 SAM7UF
Another unique aspect of the Sam7 is the under-folding stock, which makes the gun easier to control (depending on your skill level). The pistol grip, forend and buttstock are made from ABS plastic, which is more durable and comfortable than the original wooden stock that many people are familiar with.
There are 15 different models in the Sam7 series listed on Arsenal's website. Depending on what features you want, this rifle sells anywhere from $1,000–1,500.
Riley Defense RAK-47
This North Carolina-based company produces quality variants of the AK-47 rifle. Riley rifles are built with a forged barrel trunnion, which basically means these mil-spec barrels will last a long time. Plus, their AKs include a side rail mount and traditional .45-degree muzzle break.

RAK-47-P
Riley doesn't mass-produce their rifles — they take time to make sure each detail is accurate. If you are looking for a typical Cold War-era-styled rifle, this is another one I recommend. The Riley Defense AK-47 sells for around $600.
AK-47s are one of the most used firearms in the world and they are growing in popularity in the U.S. due to their dependability. But remember, no matter which AK you buy, it won't be exactly like the Russian or Chinese ones you are used to seeing since AKs sold in the U.S. are semi-automatic.
Stay safe,
Jason Hanson