I remember when I got my first set of walkie-talkies — I felt like James Bond. Little did I know that as an adult I would have the opportunity to work with way-cooler gadgets while working for the CIA.
In that spirit, this "best of" edition of the Weekly Drop is dedicated to spy gadgets — voice recorders, hidden cameras, covert self-defense tools and more.
If you have a safety or survival question — or you're looking for a specific product recommendation — send an email to SPYfeedback@LFB.org.
Now let's dive in.
Can you recommend some spy camera glasses and a spy recorder able to pick up faint sounds?
— James Y. 
That's a great question, James. There are many different choices when it comes to spy camera glasses. One brand I recommend is the Toughsty hidden camera video glasses, which sell for around $70.
These glasses record HD-quality video and audio — and they have a micro SD card slot, so you can use a 32GB card for more storage. They operate on a rechargeable battery that lasts for about an hour of recording time.
For recording only audio, you can find spy audio recorders that resemble key fobs, pens and even USB flash drives. The only drawback to these tiny recorders is that they aren't the best choice for picking up faint or faraway sounds.
One USB recorder I suggest checking out is the SpygearGadgets voice-activated professional-grade audio recorder. It sells for around $99 and is also a functional USB drive, so you can store important files on it as well.
I lost the keys to the rear gate of my Ford wagon; I hope your lock pick kit will get me in. Will it?
— George H.
Unfortunately, George, most car door locks are nearly impossible to pick without destroying the lock.
However, if you purchase my Escape & Evasion Training Lock and Lock Pick Set, you'll also receive the following 10-piece set of covert jiggler keys, which can open the doors on some older-model vehicles: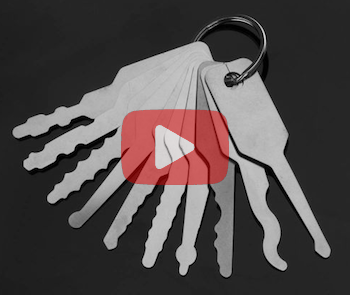 These jiggler keys are made of durable stainless steel and work on both pin tumbler and wafer locks. I recommend trying them first because trying to pick the lock with traditional lock-picking tools will only damage your vehicle and won't put you any closer to unlocking it.
Do you think that you will ever offer the compartmented (zipper pocket) belts again? If not, who makes them?
— Ron P. 
Yes, Ron, we do still offer the Escape & Evasion Gun Belt. These belts are handmade in Cedar City, Utah, and are incredibly tough — we've even used this belt to tow a vehicle.
The belt also comes with a lifetime guarantee. For more information or to purchase one for yourself, click here.
I think you mentioned something about waist wallets in one of your emails. Which one do you recommend?
— Lewis H. 
Personally, I use the Shacke Hidden Travel Belt Wallet, which costs around $15 on Amazon. You simply thread your belt through the durable belt strap and let the wallet hang down inside your pants.
The covert design of this wallet means criminals can't grab it or cut it loose from you. And as an added feature, it's lined with RFID anti-theft material to protect your credit cards and passport.
I always recommend having at least $300 in cash on you when you travel — one $100 bill, several $20 bills and a few smaller denominations.
Carrying cold, hard cash has gotten me out of a lot of jams and made my life much easier. The fact is if you are in a dire situation, giving someone a $100 bill will certainly motivate them to help you.
I need the best security camera for my small, one-bedroom apartment. What do you recommend?
— Yvonne W. 
I know there are a ton of options out there when it comes to indoor security cameras. One camera I recommend looking into is the Amazon Cloud Cam, which sells for $119. The latest model can be integrated with Alexa, Amazon's virtual voice assistant.
This indoor security camera offers 1080P picture, night vision, two-way audio, notifications and free storage. In other words, you won't have to pay a monthly fee for video storage like you do with most other security cameras — although there are a few bonus features you can activate with a Cloud Cam subscription.
I bought one of your tactical pens a couple of years ago. I keep it with me all the time and have used the pen for just about all my writing. Here's the problem: I cannot find a replacement cartridge anywhere — and I mean anywhere. Do you have any idea where I can purchase a few extra cartridges?
— Dale P.
I'm glad you enjoy using your tactical pen. I'm also glad that you keep it with you. The tactical pen truly is one of my favorite self-defense tools because it's so covert you can take it virtually anywhere. Everyone in my family carries one with them.
The refill for the tactical pen is the Schneider Slider 755 XB ballpoint pen refill. You can purchase a two-pack in black or blue on Amazon or in most office supply stores for about $6.50.
Is there a place online or in Los Angeles, California, where I can get a body camera that is not very expensive or other equipment that is comparable?
— Mario S. 
I recommend the Transcend DrivePro 30 1080p HD Body Camera. Now, these aren't cheap — but when it comes to investing in a body camera, a quality device will cost a few hundred dollars.
You can buy one of these cameras online at a few different places such as Amazon or B&H Photo for around $300. This camera comes with a 12-hour battery, 64 GB of internal storage and a built-in microphone, and it records in 1080p. Plus, it's rated for outdoor use, so you can travel with it anywhere.
Stay safe,
Jason Hanson
P.S. Remember — I'm here to help you. Be sure to send your safety, survival and product questions to SPYfeedback@LFB.org so I can address them in a future mailbag alert.