Dear Black Bag Confidential Reader,
I truly believe that any person — of any age, size or skill level — has the ability to defend themselves. All it takes is a little knowledge, some preparation and good situational awareness to thwart most major threats.
In this week's roundup of must-read articles, you'll learn an effective maneuver that can stop any attacker in their tracks… six ways to turn an everyday item into a powerful survival tool… why you should check your social media account right now… and more.
Here we go.
1. As Seen on TV: The No. 1 Way to Thwart an Attacker
For my new book, Survive Like a Spy, I tapped into my network of spies and special operatives to reveal HUNDREDS of trade secrets on how to stay safe in an increasingly dangerous world. One of the biggest concerns I address is how to defend against an attacker — no matter your size or skill level.
Check out my recent appearance on Fox where I demonstrate a quick combat technique absolutely anyone can execute. Then click on the link above to find out how you can get your hands on a FREE copy of my new book to learn more.
You'll discover…
Three things every good spy does when they enter a restaurant, coffee shop or movie theater that could save your life
What a real safe house is actually like and how you can develop your own (as usual, Hollywood gets this wrong — it's nothing like the movies)
How to run an SDR (surveillance detection route) to know for sure if you're being followed — or how buying coffee can tell you INSTANTLY
The No. 1 place I keep my own secret cache of cash, food, water, survival gear, guns and ammo — and why I recommend using this option too.
And much, much more.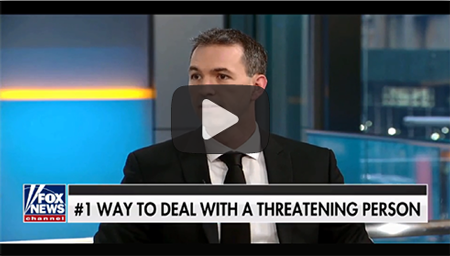 2. Six Ways to Use a Tactical Flashlight and Why You Should Carry One
In a survival situation, you'll want to arm yourself with the best tools to increase your odds of making it out alive. Why would you bet your life on a shoddy, low-beam flashlight?
The bottom line is all flashlights are not created equal. In this post from The Prepping Guide, you'll learn the difference between a tactical flashlight and a normal flashlight, six ways you can use a tactical flashlight for survival and seven things to look for in a quality torch.
I recommend having at least one tactical flashlight on every level of your home, in each of your vehicles and your bug-out bag. You can stock up on extra quality tactical flashlights for an incredibly low price with this special offer.
3. You Should Really Look at Your Facebook Third-Party App Settings Right Now
Have you ever taken one of those personality quizzes on Facebook to find out which Muppet you are or what the color of your aura is? Be honest…
I get it, they're quick and fun. But these tests are also putting your privacy at risk. In fact, you may be giving up tons of personal information to outside companies without even realizing it.
Visit the third-party app permissions page in privacy settings and edit the information you're sharing immediately. Click on the article above to find links and instructions (for both mobile and desktop devices).
These days, hackers are constantly trying to steal your information (and legitimate companies are giving it away). Don't make it any easier for them.
4. Legionnaires' Outbreak Officially Linked to Flint Water Crisis
Legionnaires' disease is a severe, often lethal type of pneumonia caused by Legionella bacteria. This bacterium grows and spreads in human-made water systems. People become infected when they breathe in contaminated water droplets in the air.
An outbreak in Flint, Michigan, that began in 2014 claimed 12 victims and sickened many others. According to this piece from East Village Magazine, the cause of that outbreak has been officially linked to a chlorine deficiency in the city's water after the switch to the Flint River.
This is why a survival water filter should be at the top of your emergency preparedness list. The SurvFilter has been rigorously tested and certified by independent water laboratories to remove 99.99% of bacteria and viruses. I've got one in each of my family's bug-out bags in case of any natural — or human-made — disaster.
5. Zones of Assessment: The Key to Survival When the Situation Seems Hopeless
In the first few moments after a crisis, you must stop and take stock of the situation to determine the best course of action for survival. It's important that you do your best not to panic while you narrow down your options.
In this post on TheSurvivalistBlog Les Stroud (the Survivorman himself) breaks down his assessment method into three segments or "zones." This will help you remain calm and focused — and it should only take about 60–90 seconds to gather the information you need to make an informed decision.
Take a look. And as always…
Stay safe,
Jason Hanson