Remember that correction we've been quietly talking about over the past couple of months?
Well, it might be right around the corner. Stocks waited until the last day of the month to nose-dive. The S&P 500 posted its first 2% down day since April — and the Dow wasn't far behind. Early this morning, futures continue to tumble.
Of course, everyone claims to have seen this move lower coming a mile away. But that won't stop the panic if we do begin to see momentum pick up to the downside. Guessing that a correction is around the corner is one thing — but making the right moves while stocks tumble is a completely different animal.
Today, I want you to forget about the big indexes and the big, red numbers they're showing on the financial news channels. Instead, you should focus on three sectors that look like strong sells. These are three groups of stocks that could have a lot more room left to drop — whether the major averages find their footing or not this month…
First up is homebuilders.
Now, I know what you're thinking. I've been bullish homebuilders since last year. In fact, I told you as recently as a few weeks ago that a do-or-die moment for homebuilders could quickly send shares higher.
Spoiler alert: it didn't.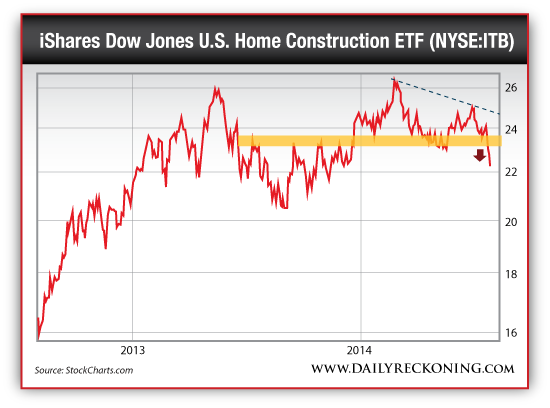 Homebuilders are sliding fast, breaking through critical support. They're trading at new 2014 lows as I type. Stay away from these stocks right now. There's plenty of room for them to drop much lower…
Next up on the sell list is solar stocks — another one of my favorite sectors.
Don't get me wrong — I still like the solar story. With solar costs getting cheaper by the year, the industry is starting to get competitive. But the story isn't matching up with the price action right now. With the Guggenheim Solar ETF (NYSE:TAN) breaking down below its 200-day moving average yesterday, its time to step aside…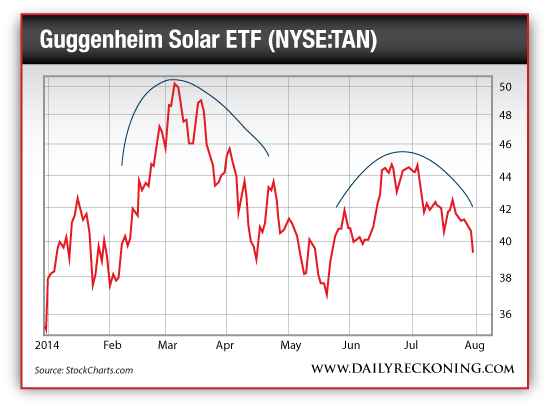 If TAN loses $37, we could see an even bigger drop before the fourth quarter even begins.
[Ed. note: Believe it or not, Greg publishes great advice like this in the Rude Awakening for free. Click here and we'll add you to his list of email contacts free of charge. Then each morning at 9am you'll receive his valuable insights on how to navigate the market.]
FInally, we have the big consumer staples stocks. The Consumer Staples Select Sector SPDR (NYSE:XLP) was locked into a tight, uptrending channel since the first quarter. XLP is made up of all the mega-cap consumer names like Procter & Gamble, Coca-Cola and Walmart. These are the "safe" stocks investors were fighting to buy earlier this year as they fled the more speculative areas of the market.
But now, these names are also starting to break down.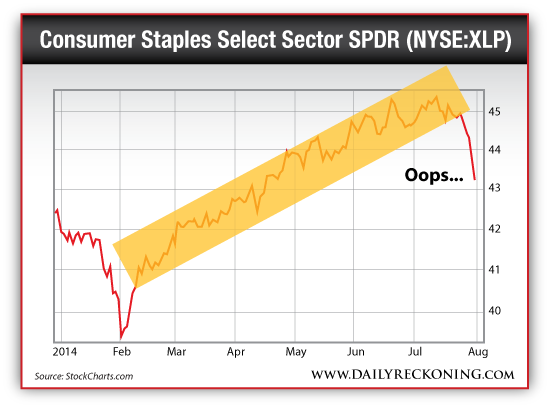 XLP has lost its mojo. This once-stable sector is rolling over on high volume. That means its time to trim your holdings…
Don't get caught up in the hysteria surrounding yesterday's sharp move lower. If you keep your wits about you and listen to the market's signals, you'll survive — and even get the chance to book gains — while everyone else panics.
You're already ahead of the herd…
We've sold a good chunk of our open short-term trades. Russell 200 iShares (NYSE:IWM) and Bonanza Creek Energy Inc. (NYSE:BCEI): are next on the list (see below for updates).
Also, you've probably noticed that a few of our recent trade ideas haven't triggered yet. That's a good thing — we didn't guess at them and therefore didn't get caught up the big downdraft yesterday. A huge part of trading is sticking to your strategy. So congrats for staying sane and doing what you have to do to not only book gains but avoid big losses.
Today, we have the opportunity to test the waters with a LinkedIn Corp. (NYSE:LNKD) buy. I like this stock because it's not anywhere close to its highs. And its solid earnings report could be a nice tailwind for it as we head into a new trading month…
However, this isn't the environment where you want to take a large position. Buy half the shares you normally would.
I'll keep a close eye on this new trade today. Have a great weekend!
Sincerely,
Greg Guenthner
This article originally appeared here in the Daily Reckoning.